HVTF1 Cable Resonance Withstand Voltage Test System
Ⅰ Application
The AC withstand voltage test device is suitable for AC withstand voltage test of transformers, circuit breakers, switches, GIS systems, cables, bushings, insulators and other equipment. With high voltage overvoltage protection, low voltage overcurrent protection, as well as detuning protection, zero position, flashover protection, emergency shutdown, undervoltage protection and other multiple protection functions. It can meet the test requirements of high voltage and low current equipment, and meet the test requirements of low voltage and high current equipment. It has a wide range of application.
The frequency adjustment of the AC withstand voltage test device is divided into coarse adjustment and fine adjustment, and the test resonance point can be automatically found to ensure that the resonance frequency does not drift during the whole test process; the required power supply capacity is small, and the power supply required for the test is only tested. The capacity is 1/Q; the volume is small and the weight is light, which is 1/3-1/5 of the common test device; the resonant power supply is a resonant filter circuit, which can improve the waveform distortion of the output voltage and obtain a good sinusoidal waveform, effectively preventing Harmonic peak to the wrong breakdown of the test sample; with a variety of working modes, 220V or 380V single-phase power supply, convenient on-site power; multi-mode, modular combination, can be combined and easy to operate, convenient for on-site use.
More information:
Prduct, Video, News, Project,please kindly click the letters to view:
Product: AC RESONANT TESTING SYSTEM
Tutorial Video Of How to Rise voltage to 600kv with HVTF 1600KVA 600KV AC Resoance Hipot Tester
News: 800KVA/400KV AC Resonant Test System PURCHASED by Our VIP006 customer
PROJECT: 800KVA/400KV AC Resonant Test System/Series Resonance Hi-pot Test Device
Presentation Video of Flashover Protection
News: HVTF-1200KVA/600KV HVTF-1600KVA/600KV AC Resonant Test System delivered to our customer
News: HVTF-1600/400 AC Resonant Test System delivered to our customer AC Resonant Test System delivered to our customer
PROJECT: HVTF-1200KVA/600KV HVTF-1600KVA/600KV AC Resonant Test System/Series Resonance Hi-pot Test Device
Related Power instrument,please kindly click the letters to view:
HVXC/HVTC AC/DC Power Frequency Hipot Tester
HVTFW PD HV Test System (Resonance)
Partial Discharge Test System (Power Frequency )
Ⅱ Introduction
HVTF makes the reactor and tested capacitor in resonant by adjusting the frequency of the power source, to get high voltage and heavy current for measured equipment. Now it is a new method and trend for high voltage test and widely used.
HVTF uses special SPWM digital wave-generate chip, resolution is 16 bits, the frequency adjustment fineness could be 0.1Hz if the frequency was 20~300Hz; adopts sine asynchronous fixed wave carrier modulation, to ensure the waveform output is good in the whole frequency range; adopts advanced IPM module, ensure the stability and safety of the device under minimum weight.
Ⅲ Features
1.Small in volume, light in weight.
2.This system need one person to carry the device less than 30KG, two people less than 60KG. Suitable to carry on site.
3.Power supply, Single phase: 220V or 380V, convenient to get power on site.
4.Reactor uses epoxy cast, beautiful and reliable, suit for all kinds of cables.
5.110kV and above voltage level cable withstand voltage test use oil-immersed reactors, when the weight of single machine is more than 100kg, optional dedicated small electric cranes
Ⅳ Parameters
Note: Capacity(KVA) and voltage(KV) of test system can be produced according to your requirement.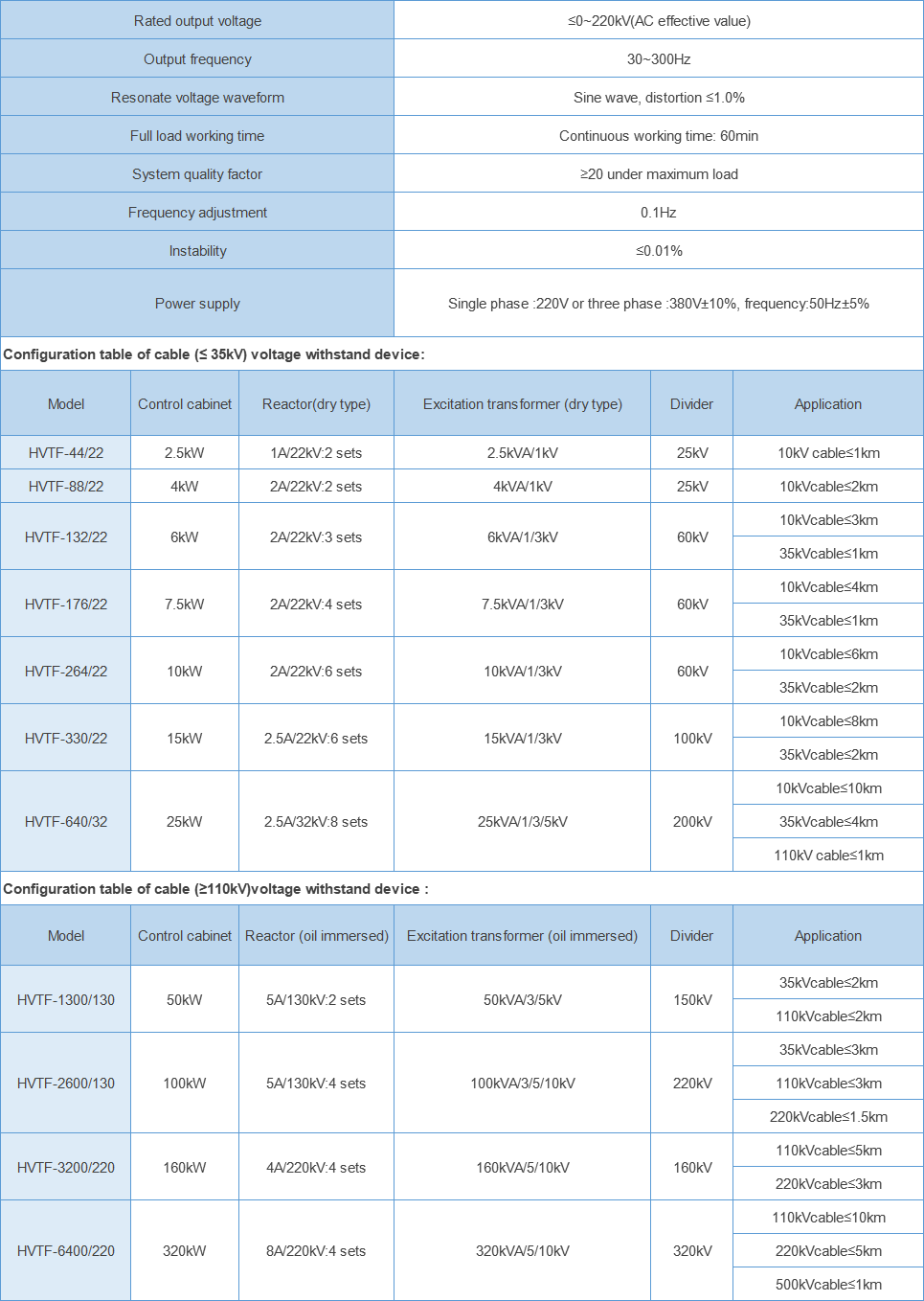 FAQ:
1. When can I get the price?
We usually quote within 6 hours work time after we get your inquiry. If you are very urgent to get price, please call us or tell us in your email so that we will regard your inquiry priority.
2. What about the delivery time for production?
Honestly, it depends on the order quantity and the product. Usually our leading time is within 7 working days after order confirmation.
3. What is your payment terms?
We accept EXW, FOB, CFR, CIF, DDU, ect. You can choose the one which is the most convenient and cost effective for you.
4. How much will the Shipping cost and time be?
This will depend on size of your goods and method of shipping (by sea/ by air/by Express) and your designated seaport or airport. We will be grateful if you can spare us some minutes to evaluate the cost based on the information of product.
5. Could you please tell me the Warranty Period of your product?
Our warranty period is one year free and lifelong maintenance. If the product is damaged (if not man-made damage), in the first year,we will send free parts for replacement. Over warranty, maintenance is paid service.
6. Do you have Technical Backup to all customers from different countries?
To be sure,our technical support is always available and quick response.
We are manufacturer with much on-site testing experience, thus we know how to deal with your problems. Moreover, our engineers can go to your country to support if needed.