HVIG Impulse Voltage Generator-Marx Generator
I Scope
The generator is sutable for full-wave lightning impulse voltage test of large capacity power transformers, cables, gas-insulated switchgears (GIS), reactors, surge arrester, casing, combined electrical composite insulator and other test materials to carry out the impulse voltage test for full wave of lightning impulse voltage, chopped wave of lightning impulse voltage, operating shock wave and steep wave, testing insulation performance.
More information:
Project, News, Video,please kindly click the letters to view:
Product: HV Lightning Impulse Voltage Generator, Impulse Current Generator
Factory Video of HVIG Automatic lightning impulse voltage generator testing system
Difference of Impulse current generator VS Impulse voltage generator, please click on the picture or title to view more:
HVCG Impulse current generator is for withstand impulse current test of electrical equipment such as SPD (Surge Protector), Arrester resistance sheet, Zinc oxide arrester valve plate, varistor, discharge tube.
HVIG Impulse Voltage Generator is for Withstand short-time impulse voltage test of tranformer, swithgear, insulator, cable, etc.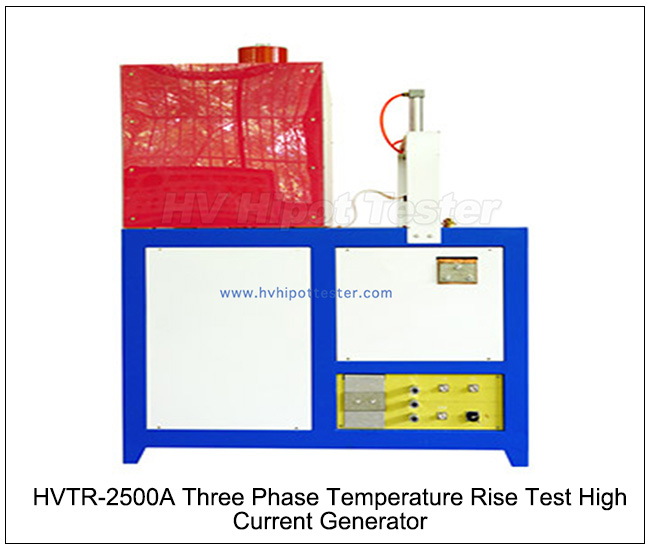 II Condition
1.Altitude: ≤ 1000M
2. Environment temperature: - 5ºC~ 45ºC
3. Maximum daily temperature in deference: ≤25ºC
4. Relative humidity: ≤90% (20 ºC)
5. Earthquake resistant capacity: ≤7
6. Horizontal ground acceleration: 3.0m/s2; Vertical ground acceleration: 1.5m/s2
7. Power supply voltage waveforms for actual sine wave, waveform distortion rate: <3%
8. With a reliable grounding terminal, grounding resistance: < 0.5Ω
9. Installation location: Indoor
III Characteristics of the products
(1) Complete configuration with wide voltage levels in the whole set of device.
(2) Small circuit inductance of the impulse voltage generator, a band-stop filtering measures is adopted so that a standard impulse wave is still generated even under a large capacity load and large load capacity, it is applied to scientific research and business units.
(3) Large voltage utilization factor, lightning wave and operating wave are not less than 90% and 80%;
(4) Compact structure, beautiful appearance, convenient modulated wave, simple operation, good synchronizing performance and reliable operation;
(5) Adopting SCR or LC constant-current charging automatic control technology, which is high automation and strong anti-interference ability.
(6) Chopped wave delay is adopt the delay mode of electronic delay adjustable circuit L-C.
(7) Computer controlled to measure (fiber PLC control) system.
IV Construction
Main components of impulse voltage test systems consists two impulse capacitors for each stage, ranging from 800kV to 7200kV cumulative charging voltage.
Test system mainly consists of impulse voltage generator, charging device, damped capacitive divider, automatic control and measure system, chopping sphere gap, and other optional components (supporting resistors, glaninger circuit, etc).
V Principle
The circuit of impulse generator is the Marx multiplier circuit. Impulse capacitors arranged in the stages of the generator are charged in parallel with DC voltage up to 100kV against earth potential and, in order to generate impulses, connected in series by spark gaps. For adjustment of front time and time to half value of the test impulse, the generator stages comprise front wave resistors and tail wave resistors. A short discharge loop guarantees low internal inductances and smooth voltage shape.
FAQ:
1. When can I get the price?
We usually quote within 6 hours work time after we get your inquiry. If you are very urgent to get price, please call us or tell us in your email so that we will regard your inquiry priority.
2. What about the delivery time for production?
Honestly, it depends on the order quantity and the product. Usually our leading time is within 7 working days after order confirmation.
3. What is your payment terms?
We accept EXW, FOB, CFR, CIF, DDU, ect. You can choose the one which is the most convenient and cost effective for you.
4. How much will the Shipping cost and time be?
This will depend on size of your goods and method of shipping (by sea/ by air/by Express) and your designated seaport or airport. We will be grateful if you can spare us some minutes to evaluate the cost based on the information of product.
5. Could you please tell me the Warranty Period of your product?
Our warranty period is one year free and lifelong maintenance. If the product is damaged (if not man-made damage), in the first year,we will send free parts for replacement. Over warranty, maintenance is paid service.
6. Do you have Technical Backup to all customers from different countries?
To be sure,our technical support is always available and quick response.
We are manufacturer with much on-site testing experience, thus we know how to deal with your problems. Moreover, our engineers can go to your country to support if needed.