HVSF-III SF6 Analyzer-Purity & Dew Point & Decomposition 3 in 1
Ⅰ Summary
The SF6 gas comprehensive analyzer can measure humidity (dew point), purity, and decomposition products in one. The functions realized with several instruments are now integrated in one instrument. One time on-site measurement can complete up to three indication test, which greatly saves the gas in the equipment, saving 1/2 of gas consumption in one measurement, meanwhile reducing the user's workload and improving work efficiency.
The instrument can also make a combination of measuring humidity (dew point), purity, decomposition products, or measure any of these parameters.
The instrument adopts color LCD English display, imitating Windows operation interface, real-time display of various parameters, full intelligent operation, massive information storage, built-in rechargeable battery, AC and DC dual-use.
More information:
Project, News, Video,please kindly click the letters to view:
Product: SF6 TESTING EQUIPMENT
Toutorial Video Of HVSF-III-H2S, SO2 3 in 1 SF6 Analyzer-Purity & Dew Point & Decomposition
News: HVSF-III-H2S, SO2 3 in 1 SF6 Comprehensive Analyzer DELIVERED to Southeastern Asian Customer
PROJECT: HVSF-III-H2S, SO2 3 in 1 SF6 Analyzer-Purity & Dew Point & Decomposition
Ⅱ Main characteristics
1. Decomposition products and purity can be measured in one time. One measurement can complete multiple indicators detection.
2. All imported precision sensors, automatic calibration to zero for dew point measurement, anti-oil pollution and anti-drift
3. Smart flow display, power display.
4. Support file system, measurement data storage and printing.
5. Instrument self-diagnosis function, intelligent power display.
6. Support data communication.
7. Long-term stability, reliability, and high repeatability.
8. Wide measurement range, high accuracy and fast response.
9. Small size, intelligent and complete functions.
10. With fast data storage and query function.
11. AC and DC dual-use, built-in rechargeable lithium battery, can work continuously for several hours.
12. The probe is not affected by condensation, special pollution, oil and gas and most chemical environments.
13. The patented technology protects the gas chamber to speed up the measurement.
Ⅲ Technical index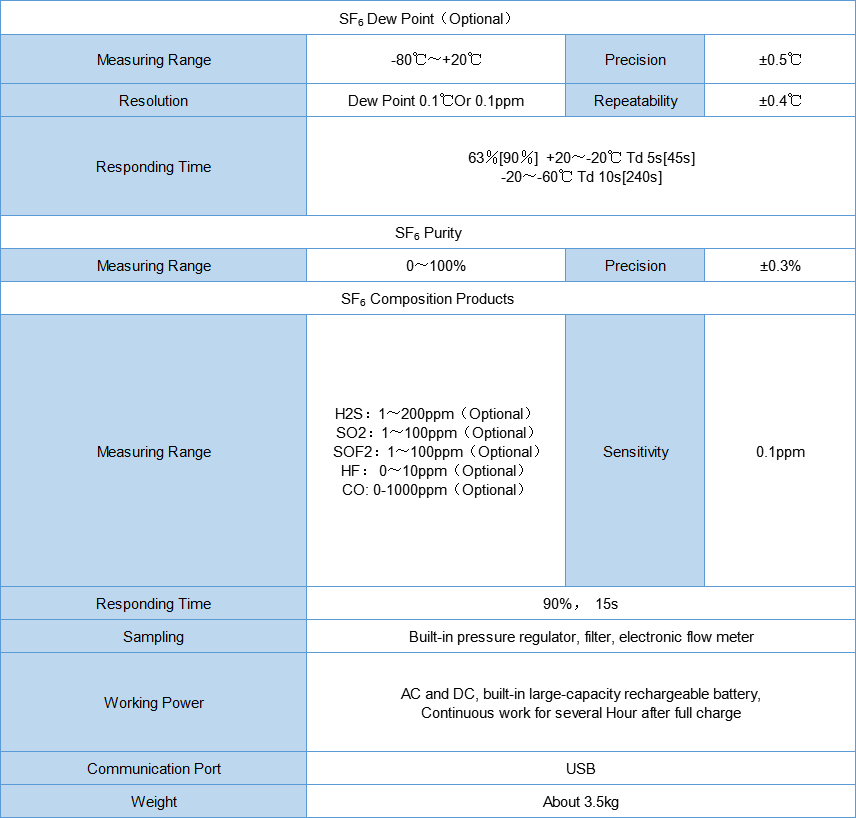 Ⅳ Product Component Name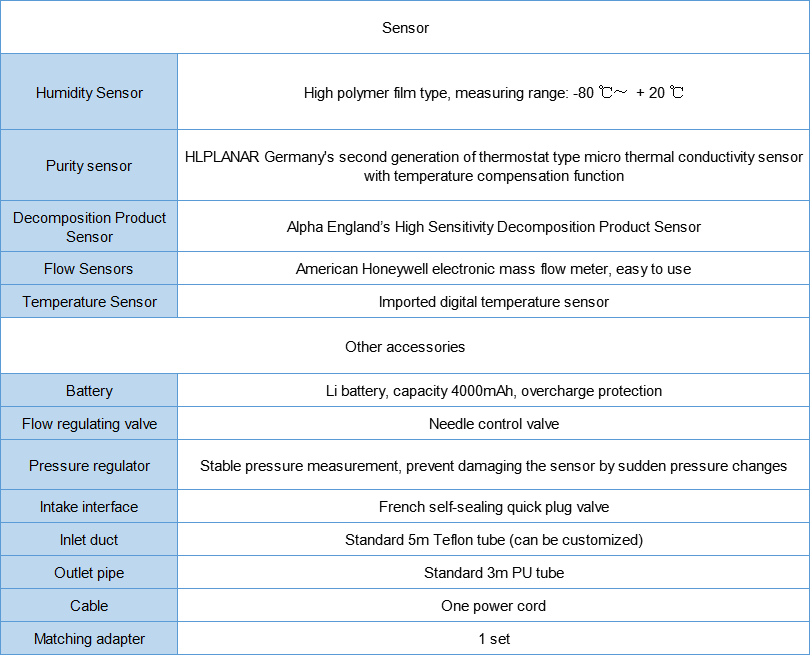 Ⅴ Measurement method
1. Initialization
Turn on the power switch of the instrument, the instrument enters the initialization self-checking process, which takes 8 minutes.
2. Check the power
When using DC power, if the power is too low, please power off, charge the battery and continue to use it.
3. Preparation
Before measuring SF6 equipment, it is recommended to use SF6 high-purity gas to obtain the purity of the equipment: pass the high-purity SF6 into the equipment, when it is stable, press the full-scale key to take purity full-scale. If the SF6 purity value drifts, you need to take the "tare" operation, press the zero key to take the zero point.
4. Connect SF6 equipment
Close the flow control valve on the instrument panel. Insert one end of the quick connector of the test pipe into the sampling port of the purity analyzer; connect the threaded end of the measurement pipe to the switch connector and tighten with a wrench. Connect the switch connector to the SF6 electrical equipment measurement interface, and tighten with a wrench. Connect the exhaust duct to the air outlet.
5. Start measurement
Adjust the flow valve, adjust the flow to about 0.3 ~ 0.6L/M, and start measuring. The measurement time takes about 7 to 15 minutes, and then each tested object takes 2 to 4 minutes.
6. Store data
After measurement is done, you can save the data in the instrument and press the "OK" key to call up the operation menu. For the specific operation method, see the following chapter.
7. Measuring other equipment
After one measurement is done, close the regulating valve. Remove the connecter from the SF6 electric equipment.
8. End of measurement
After measuring all equipment, turn off the power of the purity analyzer
FAQ:
1. When can I get the price?
We usually quote within 6 hours work time after we get your inquiry. If you are very urgent to get price, please call us or tell us in your email so that we will regard your inquiry priority.
2. What about the delivery time for production?
Honestly, it depends on the order quantity and the product. Usually our leading time is within 7 working days after order confirmation.
3. What is your payment terms?
We accept EXW, FOB, CFR, CIF, DDU, ect. You can choose the one which is the most convenient and cost effective for you.
4. How much will the Shipping cost and time be?
This will depend on size of your goods and method of shipping (by sea/ by air/by Express) and your designated seaport or airport. We will be grateful if you can spare us some minutes to evaluate the cost based on the information of product.
5. Could you please tell me the Warranty Period of your product?
Our warranty period is one year free and lifelong maintenance. If the product is damaged (if not man-made damage), in the first year,we will send free parts for replacement. Over warranty, maintenance is paid service.
6. Do you have Technical Backup to all customers from different countries?
To be sure,our technical support is always available and quick response.
We are manufacturer with much on-site testing experience, thus we know how to deal with your problems. Moreover, our engineers can go to your country to support if needed.